Interface Elements
Volunteers have translated the concrete5 core into many languages. This will allow you to display your concrete5 interface elements (Dashboard, edit toolbar, block menus, etc) in a language other than English.
Using a translated concrete5 interface
If you want to use a translated Dashboard and other concrete5 interface elements, you'll need to either downloaded an already-translated copy of the core (available for some languages) or download a language translation file and install it on your site.
Translated copies of the core are offered by many international communtiy sites.  
Downloadable translation files are managed at Transifex. See this page for step-by-step instructions.
Are add-on interfaces translated as well?
Some developers include translation files for their add-ons.  An add-on's Marketplace page should list the languages it is currently compatible wth. If you cannot find information about what translation files the add-on contains, feel free to use the "Pre-sale Questions" link to send the developer a private message. Alternatively, you can download the source.  A translated package will include a languages/ folder that looks something like this: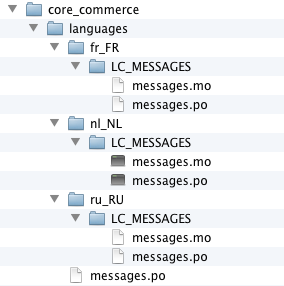 Most developers are eager to offer translated add-ons, as this will help their products reach the widest possible audience. If you've done translation work on an add on and want to share, please send the add-on developer a private message and let them know. If you would like to learn more about translating packages, see this article for more information.
Displaying your site's content in multiple languages
Our approach to displaying site content in different languages aims to be easy to understand and highly flexible.  A separate Sitemap branch is used for each language. If you're interested in translating your site's content, we offer two add-ons that help create and manage multiple languages in the same concrete5 site:
Internationalization
The free Internationalization add-on lets you quickly and easily copy, compare and manage language branches in your site. The pages in each branch can then be translated manually. Site visitors can use the Switch Language block to quickly jump between languages.
Internationalization Enterprise
Building on the features included in our free Internationalization add-on, Internationalization Enterprise introduces additional tools designed to help your team manage larger multilingual sites. With this add-on, it's easy to manage language branches and control page relationships as the site evolves. Included is a dashboard-based interface for comparing branches and mapping particular pages from one branch to another.
Resources
Database Encoding
We recommend using UTF8 encoding for your database. If your site displays translated text as question marks, read Fix Character Encoding in Your Database to learn about how to correct this.
Internationalization Forum
Our Internationalization Forum is a great place to find help, ask for advice and find resources that cater to your language.
International Community Sites
Many concrete5 users have created sites dedicated to serving their particular region, language or dialect. Our International Community Site page makes it easy to get help and share resources.
Loading Conversation