The editing toolbar appears across the top of your pages when you're logged in to your concrete5 site. It allows you to enter and exit edit mode, gives you quick access to your Dashboard and concrete5 intelligent search.

When you hover the "Edit" button, the page edit drop down will open, allowing you to edit this page, add Sub-pages, or change some of the options related to this page.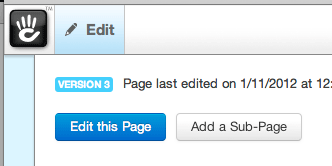 Clicking the Dashboard label will give you easy access to all of the configuration pages.
Intelligent search is an easy way to get around. Hit the TAB key and start typing and intelligent search will try to find meaningful results. Intelligent search takes the text you're typing and tries to find matching content across a few sources:
Your site's public pages. If you just need to quickly get to your Press Releases section, start typing "Press" and see what comes up!
Your site's dashboard. Even if you don't know where to go in the Dashboard to change a setting, just start typing in Intelligent Search to see what you learn. 
How-tos and docs on concrete5.org. We do a quick check to this site to see if there's something here that might help you.
The marketplace. Type "ecommerce" and quickly see what's available. 
Loading Conversation