The concrete5 Dashboard is where you can change the behind-the-scenes settings that control how your site operates.
Accessing the Dashboard
There are a couple of different ways one can access the Dashboard. While logged in as an Administrator, you'll have easy access to the Dashboard whenever you see the concrete5 editing toolbar.
Hover over the "Dashboard" button to access commonly used features in the Dashboard Quick-access dropdown.
Or, click the Dashboard button to navigate directly to the full Dashboard.

Dashboard Quick-access dropdown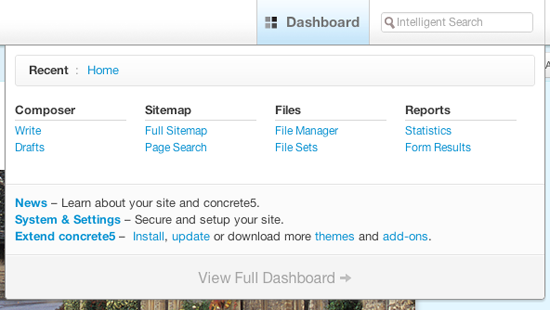 Recent lists a breadcrumb-style navigation menu of pages across your site that you've visited recently. They're linked here so that you can quickly access any of them again.
Below the Recent menu, we see several Dashboard pages that you might want to access often, such as Composer, Sitemap, Files, and Reports.
Below we see three other links to certain sections of our Dashboard.
News allows quick access to the Dashboard news overlay page, which displays news and marketplace information from concrete5.org.
System & Settings links you directly to the Dashboard pages that allow you to configure advanced site settings.
Extend concrete5 provides quick access for purchasing new add-ons and themes directly from the concrete5.org Marketplace without ever leaving your Dashboard, or simply update the add-ons you currently have installed on your site.
To see the entire Dashboard, click View Full Dashboard.
Navigating directly to the Dashboard
The dashboard is also available directly at a static path. Simply go to: http://your-concrete5-site.com/index.php/dashboard
You will be prompted to enter your username and password if you're not already logged into the site.
Full Dashboard
The Dashboard landing page groups related pages together for easy navigation. Each of these sections represents certain aspects of your site: Sitemap, Members, Pages & Themes, etc. We'll discuss what each of these does later in this guide.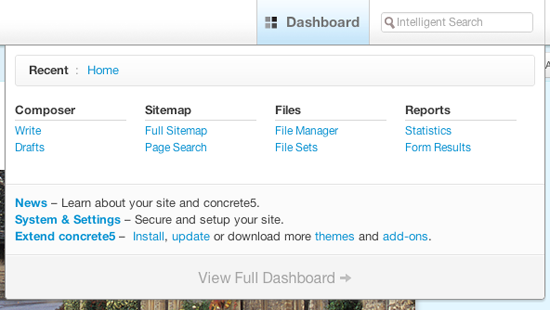 At the bottom of the Dashboard landing page we find links allowing us to view the concrete5.org News page, a link to your site's System & Settings page, and links to pages allowing the management of themes and add-ons on your site.
Dashboard Pages
Every Dashboard page has some standard navigation in the corner:
The triangle shows you related pages to this. IE if I'm adding a user, I might see add groups and search users in there too. 
The question mark has custom help information for this config page. 
The star icon lets you add this page to your Quick Nav on the left. The Quick Nav is the blue bar that slides down from the editing toolbar showing your favorite dashboard pages on the left and your most recently viewed pages on the right. You can disable it from the "Interactive Settings" page in the dashboard.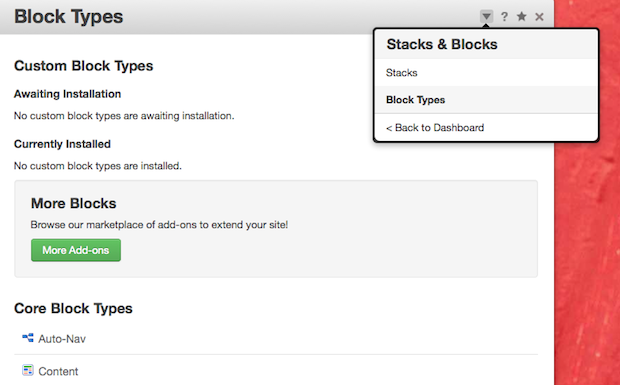 Loading Conversation