Composer is concrete5's built-in blogging tool. It allows you to easily write and publish blog posts directly from your site's Dashboard. When Composer creates pages, it can be set to use one or more different page types. This Dashboard page, accessible via Page Types, controls options related to page type availability, the location a new post is placed, which attributes are displayed, and the order that blocks are displayed in when a user creates a new post.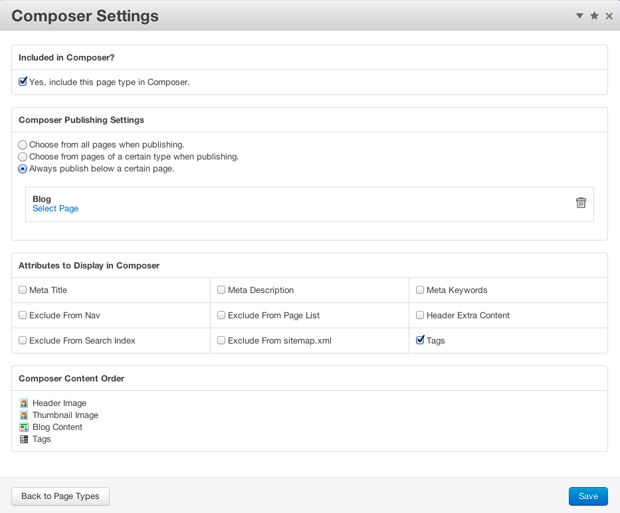 Included in Composer
Checking this checkbox enables this page type as an option when users create a new post with Composer.
Composer Publishing Settings
Here, we control where users create their new posts by default.
Choose from all pages when publishing
If this option is selected, the user will be allowed to pick where on the Sitemap they'd like to place their posts.
Choose from pages of a certain type when publishing
This option limits the locations where a user can make new Composer pages, allowing them to do so only beneath existing pages of a specific page type. This option is useful if you want to let users make new posts in more than one specific location. Simply create a "Blog Landing" page type, apply it to pages as needed, and select this page type to limit new posts.
Always publish beneath a specific page
Here, we can select a specific area of the site under which to place all new Composer pages created with this page type. In the example above, our page type is set to place new posts under Blog, a typical setup. If you delete this selection and do not set a default location for blog posts, users will be prompted where they'd like to place the new post. Setting a default location here is a good way to keep your site's bloggers or writers from creating a new Composer blog post somewhere other than under the specific place you intend them to.
Attributes to Display in Composer
Each page attribute enabled here is available to users while the edit using Composer. For instance, if you want bloggers to be able to define their own Meta Descriptions from Composer, you'll need to enable that attribute from this page.
Composer Content Order
This area lists all the editable blocks showm to users as they edit a post in Composer. The order in which these blocks appear in Composer can be adjusted by simply dragging each item to its new position. Keep in mind that this setting will not affect the placement of the blocks on the page itself-- just the order that users see them in when they edit a page.
Loading Conversation