You can control which groups (or users) have access to certain administrative functions within concrete5 from this interface: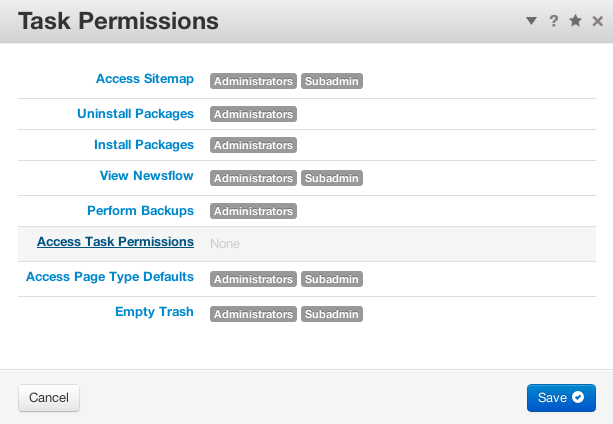 Access Sitemap - Lets selected users & groups use the sitemap when picking page links. 
Change Task Permissions - This allows users or groups to alter task permissions (what we're working with right now) for themselves and others. 

This option is typically only enabled for site administrators.

Install Packages  - Allows or prevents users from installing new add-ons/themes and downloading additional packages from the concrete5.org marketplace.
Uninstall Packages - Alllows users to remove packaged add-ons and themes from your site.
View Newsflow  - Allows users with Dashboard access to view daily "Newsflow" community content when first logging into a site.
Perform Backups - This setting includes or excludes the users and groups you've selected from using the built-in concrete5 database backup tool.
Access Task Permissions - If you want to allow other users to change Task Permissions, or exclude specific administrative users from doing so, this is where to go.
Access Page Type Defaults - Control who can view and edit default blocks on your site's Page Types.
Empty Trash - Determine who can permanently delete pages from your Sitemap's trash can.
Loading Conversation